How to Plot Radar Charts in Python [plotly]?¶
The radar chart is a technique to display multivariate data on the two-dimensional plot where three or more quantitative variables are represented by axes starting from the same point. The relative position and angle of lines are of no importance. Each observation is represented by a single point on all axes. All points representing each quantitative variable is connected in order to generate a polygon. All quantitative variables of data are scaled to the same level for comparison. We can look at the single observation of data to look at how each quantitative variable representing that samples are laid out on the chart.
The radar chart can be useful in identifying and comparing the behavior of observations. We can identify which observations are similar as well as outliers. The radar charts can be used at various places like sports to compare player performance, employee performance comparison, comparison of various programs based on different attributes, etc.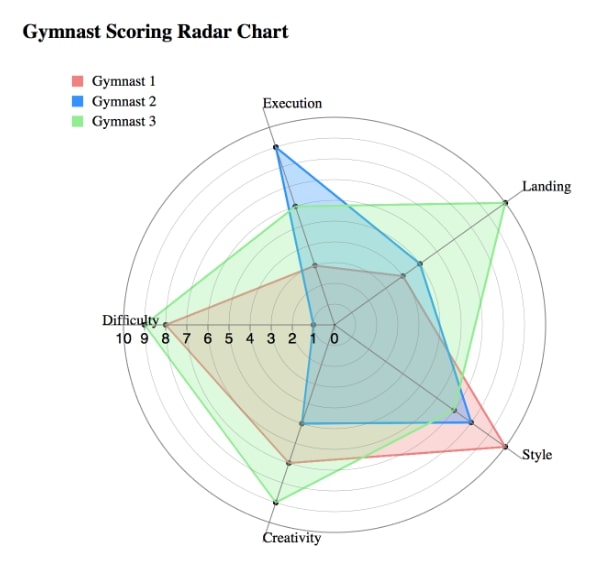 The radar chart also commonly referred to as a web chart, spider chart, spider web chart, star chart, star plot, cobweb chart, polar chart, etc.
The radar charts also have a few limitations which are worth highlighting. If there are many observations to be displayed then radar charts get crowded. As more polygons are layered on top of each other, distinguishing observations becomes difficult. Each axis of the radar chart has the same scale which means that we need to scale data and bring all columns to the same scale. The alternative charts to avoid pitfalls of radar charts are parallel coordinate charts and bar charts.
The parallel coordinates chart is almost the same chart as radar chart except that it lays out quantitative variables in parallel vertically unlike radar chart which lays out them as radially. We have covered small a tutorial explaining the usage of parallel coordinates chart using python. Please feel free to explore it if you want to learn about how to plot a parallel coordinates chart in python.
This ends our small intro of radar charts. We'll now start with the coding part by importing necessary libraries.