How To Use Facebook Insights For Improving Engagement¶
You might be posting Facebook posts regularly, checking the number of reaches and also engagement. But you are confused as even after making an informative post you are not getting the desired results.
Now being a Facebook person, you always need to have a content strategy ready to deploy! Do you agree?
For forming a content strategy you need to know what type of content works and how your target audience will react to it. Some simple steps will help you to deep dive into Facebook Insights and identify the content that will drive more engagement.
But before getting towards Facebook Insights you need to be aware as to why do you need Facebook Insight? Why is it essential to use Facebook Insight?
It is a very common phenomenon that people or Facebook page admins are getting frustrated due to the Facebook Reach decline. But they are confused about this mishap! People do not get the correct idea of why the posts are not gaining the expected engagement or reach. Now here comes the role of Facebook Insight!
Facebook insights provide you plenty of useful information about the performance of your post. It might also happen that your content is resonating better than your other posts.
Recommended For You! 'How To Form Content Strategy For Facebook Page'.
With the help of Facebook insights, you can easily maximize your content sharing strategy. The data provided by Facebook insight will acknowledge you to stay in touch with the content. This can be considered as the best strategy for the company brand or the page brand that you would be working on. Moreover, it will guide you to avoid content that is not responsive. From your basic page, you would be able to get initial information and insights. Only after understanding the basics you can dive into analyzing things that will provide you with content that would work for the long-term.
You Can Review The Basic Insights:
Everyone is generally seeking for some quick and easy way to identify the most favorable content.
a. Go to your Facebook Page and click on Insights (visible at the top of the page). b. Here you would get information like a number of Reach, Benchmarks and user engagement. To check out the "Reach" you need to focus on the spikes on the graph. c. It shows the post that had very wide reach over a period of time. You need to make a note of it so that you can reshare or replicate it.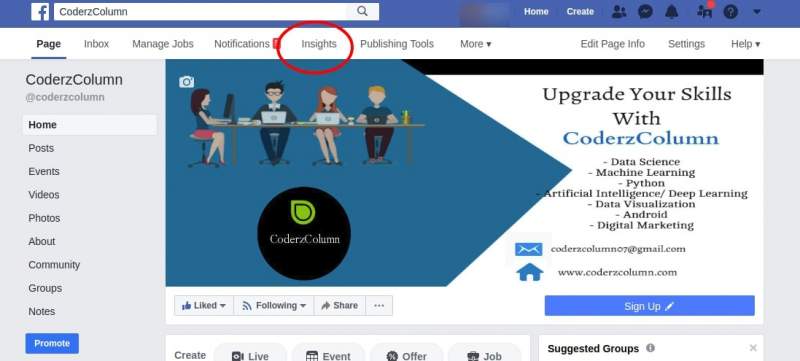 The second most important point would be to check engagement. Once knowing the engagement you can benchmark the results to later test if the strategy is working or not. In addition to that, you can also compare and chalk out some new techniques that would make a difference.
Note: Always remember that the post that gets a lot of reaches is also getting a lot of engagement.
Engagement of the post is the stat that you need to monitor regularly. Generally, Facebook insights show that data of the last 90 days, so you might not get a bigger picture to judge and analyze. So in such situations, you can get to a particular published post, check the reach and engagement rate.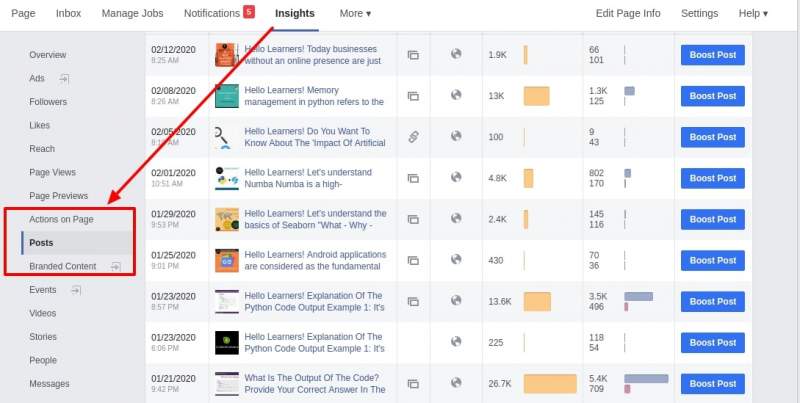 Engagement Rate: It is the measure of the percentage of people interacted with your post based on the number of people saw your post. Engagement is the true measure of the audience's interest in your content.
To get more detailed information, click on the post that received maximum reach as compared to other posts. Now inspect the number of likes, comments and shares the post has received. You can use this content as a guide for creating similar posts.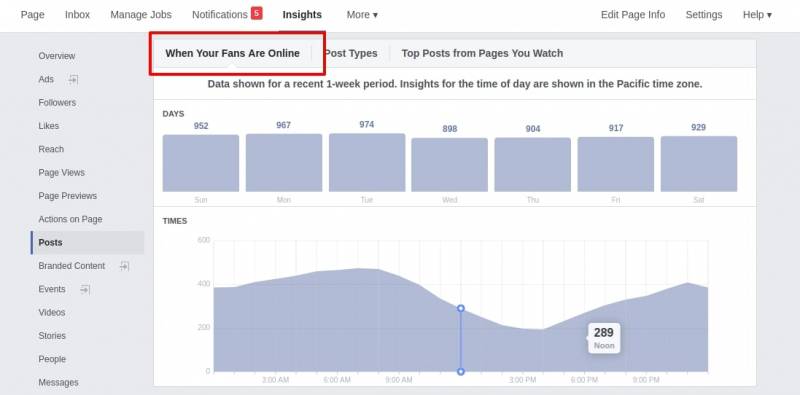 When the Facebook stats reveal that specific content is interesting to your audience then it is a message for you to reshare and publish related content.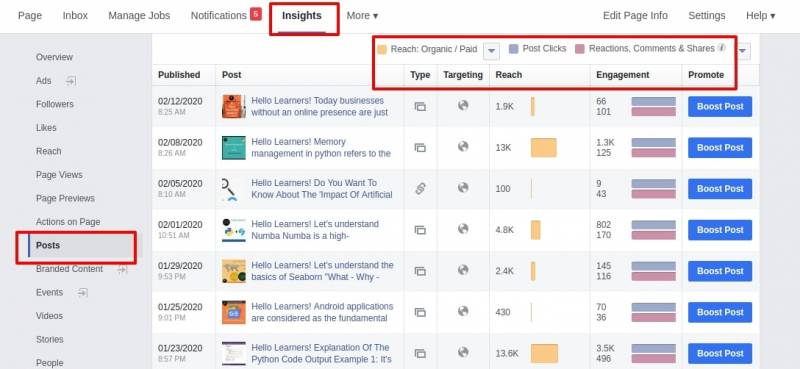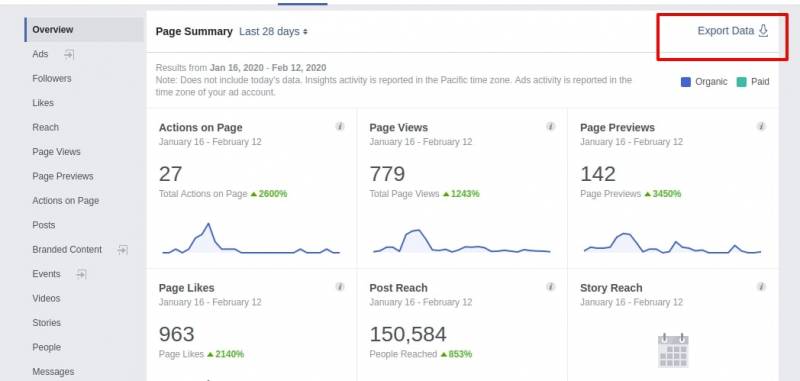 Downloading the Facebook Insight Data:
This is done when you are planning to dig deeper into Facebook's Valuable analytics. Downloading facebook's insight data can help you to sort and manipulate the information according to your needs. It will list out the content that is most important as well as interesting to your audience. This small task is quite relevant if your goal or aim is to receive website clicks or generating website traffic instead of just counting the likes and shares of the post.
a. To download the data go to the 'Insight' tab at the top of the page. b. Click export. c. Now select the post data and also the date range for which you need to analyze the data. (But keep in mind that you can export 180 days of data or 500 posts but not more than that.
If sometimes you are posting multiple times in a day then you need to keep an eye on all the posts. The downloaded data will be available as large Excel spreadsheets with multiple tabs on it. It will help you to improve your future posts or content and guide you in the right direction.
You'll see something more interesting - 'Lifetime Talking About' tab and 'Lifetime Post Consumer' tab. You'll see some visible interactions, for example, comments likes and also shares.
In the Lifetime Post Consumer tab, you can check out the 'invisible' interactions for example link clicks, post clicks, photo views, and video views. But you should not be discouraged if you are not getting a lot of likes or interactions in your post. Monitoring proper content will help you to earn more engaging content.
Now once you have the entire overview of the data then you can easily sort the data in different ways. It will help you to understand which post is driving more traffic to the website and posts that are not performing. You can also keep adding notes to the top 50 engaging posts. You can also sort the content on the basis of Phots, Textual Content or Videos.
This generates a comprehensive list of traffic generators that has gained a lot of engagement and traffic to the website. Look at the provided data and try to modify and reshare the content at different times and different days of the week.
Before reaching the conclusion you must be very clear about your goals. You are studying Facebook Insights to sort the most important and engaging content. In this way, you can grow faster and further.