In the digital era, you might be well-versed with the term "Digital Marketing", right? Well, Digital marketing is not just a single field that you can learn and just do away with. It is a vast subject that comprises various subjects that will help you in taking your business or your client's business to the top. But for that, you need to have complete knowledge of all the aspects of digital marketing that can be used efficiently to drive traffic to the website, capture high-quality leads and also convert prospective customers into potential customers. Digital marketing is a field or a stream, where the rules of the actual game keep on changing with time. It is completely based on what your customer is looking forward to. Earlier, customers were fond of traditional marketing but now they are completely involved with the digital space and do not want any sort of traditional approach. You need to keep evolving your digital marketing strategies with time so that you are always on the top in the market. The listed below are some of the best free online tools that can be used by every digital marketer - whether you are a beginner or an expert.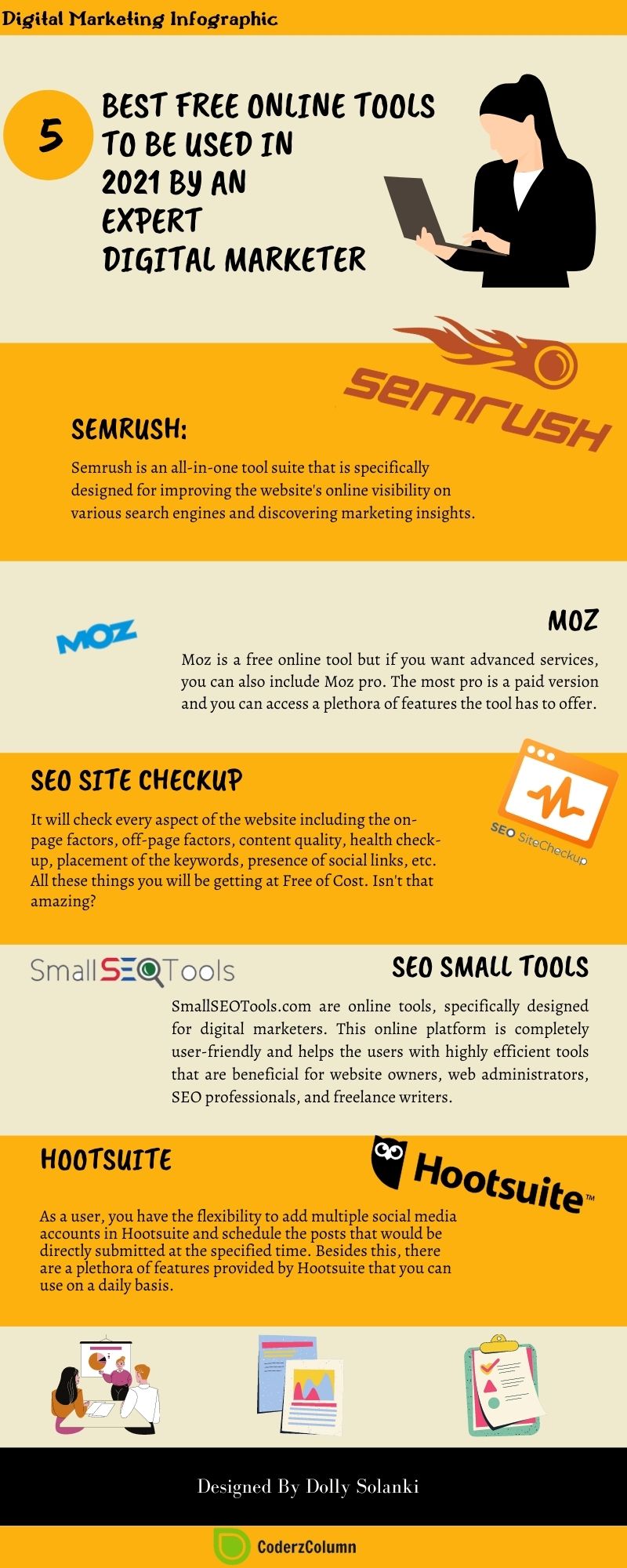 1 SEMRUSH:¶
Semrush is one of the best online tools that is available in the free as well as pro versions. For beginners, you can choose the free version where you can analyze a lot of things and then move one to the pro package. Semrush is an all-in-one tool suite that is specifically designed for improving the website's online visibility on various search engines and discovering marketing insights. You can not just analyze the overall health of the website but also develop reports which will be helpful in understanding several services:
SEO,
PPC,
SMM,
Keyword Research,
Competitive Research,
PR,
Content Marketing,
Marketing Insights,
Campaign Management.
Semrush provides four packages to the users - Free and three paid ( Pro, Guru, and Business). Usually, the Pro and Guru version is quite popular among expert digital marketers.
Here is what you can get in the pro version of Semrush
You can create at the max 3 Projects
Analyze a competitor's strategy (keywords, ads, backlinks)
You can easily manage social campaigns
You have the flexibility to research keywords
You can conveniently track up to 500 keywords
Easy and effective link building
Get on-page insights: SEO ideas/content templates for up to 10 keywords
Get technical optimization insights: crawl and audit 100,000 pages
Here is what you can get with the Guru version of the Semrush. You will have access to all the features of the pro version and along with that, you get some more features.
You have access to a total of 15 Projects
Content Marketing Platform: content audit, topic research, content optimization on-the-go, brand reputation monitoring
The higher limit of pages to crawl and audit - 300,000
The higher limit of keywords to track - 1,500
Access to historical data
Ability to track keyword positions across different devices & locations (multi-targeting) and identify keyword cannibalization
Ability to track keyword cannibalization
Ability to make branded PDF reports
The business version is generally for entrepreneurs who have multiple websites to handle. But you can still check the pricing of SEMRUSH from here.
2 Moz:¶
Moz is an online tool that is actually used by a lot of digital marketers and helps them understand the overall standard of the website. Moz is a free online tool but if you want advanced services, you can also include Moz pro. The most pro is a paid version and you can access a plethora of features the tool has to offer.
Moz is often called a suite as it has all the major metrics and you can also have access to various charts and numerical data. Here are some of the most important features that are provided by Moz.
You Can Understand Your Website Users: With the help of this tool, you would be able to understand what type of keywords would be beneficial in attracting the right customers.
It will indirectly be a great help in drafting high-quality content and keep you abreast with the latest happenings.
The keywords you receive are strategically organized and have a precise volume of the keywords and other metrics.
With these metrics, it would be easier for you to choose the best keywords for your website.
You have the flexibility to save all the generated keywords and use them as and when required.
You Can Easily Track Your Rankings: the Moz online tool helps in tracking the ranking of your website in Google SERP (search engine result pages) based on the keywords used in the website.
You can use the search result and track the performance of the website keywords in local as well as global levels.
You will receive a report of a holistic overview of the keywords and ranking of the website - a complete visibility score.
You can use Moz for crawling your website: Usually, the website's hidden issues cannot be visualized. So you need a tool for it and Moz is that tool. Just get your website listed in Moz and then you can wait for the analysis.
Moz provides you a lot of link-building opportunities and also to have a customized report for everything. But at a certain level, you will have to switch to the paid version, But don't worry, it is completely affordable and worth it. Here you can check the pricing.
3 SEO Site Checkup:¶
Yet we have another completely defined and free online tool that is recommended by a lot of digital marketers. If you want to get a complete audit of your website and at the fastest rate then nothing could beat SEO Site Checkup. It will check every aspect of the website including the on-page factors, off-page factors, content quality, health check-up, placement of the keywords, presence of social links, etc. All these things you will be getting at Free of Cost. Isn't that amazing?
Once the analysis is complete, your website will receive a score or grade that will help you understand where your website stands in the digital world. If the website is having any sort of problem, it will also provide improvised fixes which could be used to optimize your website according to SEO. You can run an unlimited analysis of your website to know the exact positioning and take measures to optimize the website.
This website provides a bunch of free as well as paid tools. To get access to free tools you need to click here. In order to access the features provided by the paid version, you can check out the pricing section of SEO SIte CheckUp.
SmallSEOTools.com are online tools, specifically designed for digital marketers. This online platform is completely user friendly and helps the users with highly efficient tools that are beneficial for website owners, web administrators, SEO professionals, and freelance writers. You, as a digital marketer, can make use of the tools for creating a website, writing content for web pages, and making a site ready for search engine optimization.
You can check the website content with the Small SEO Plagiarism Checker.
You have the flexibility to manage all the backlinks of the website and list out the broken links.
If you are unable to make use of the right keywords, the Small SEO tool will be a great help in performing the keyword research.
If you want to have high-quality content, you can make use of the Article Rewriter Tool. You can rephrase the article content and make use of it.
You can check and analyze the grammar as well as the spelling of the content and ensure that the content being published on the website is error-free.
One amazing tool that can be used for images is the reverse image tool - you can add the images and search their actual location.
One of the best aspects of Small SEO tools is that all the features and tools are available free of cost - Yes everything is free to be used by the users.
5 Hootsuite:¶
If you are a social media enthusiast, then the Hootsuite tool would be the best for you. Hootsuite is available in the free as well as paid formats and you can use them as per your convenience. As a user, you have the flexibility to add multiple social media accounts in Hootsuite and schedule the posts that would be directly submitted at the specified time. Besides this, there are a plethora of features provided by Hootsuite that you can use on a daily basis. The listed below are the key features offered by Hootsuite.
Post Scheduling: You can easily schedule the posts for multiple social media accounts simultaneously.
Streams From Hootsuite: You can monitor all the activities of the social media channels that you have added to the feed or you remain active on.
Analytics: It will help you in the tracking of all the social media accounts and keep track of their positioning such as the number of followers, posts in a day, page likes, traffic, etc.
Assignments Of Social Media: You can have multiple assignments in the Hootsuite and complete them within a stipulated time.
Content Library: The content library of Hootsuite is one of the best and most effective features that help in getting used to the best templates and then publishing them. You will be able to get access to the content library of the Hootsuite platform when you have an enterprise or business plan.
You can check out all the pricing plans at Hootsuite Plans.
Summary¶
Digital marketing is trending in all the industrial as well as the business sectors. If you are not reaping the benefits provided by the digital platforms you along with your business would lag behind. These are some of the best free online tools (they also have a pro/paid version) that can be effectively used by digital marketers to improve their work productivity and performance. You can check out all the online websites or tolls and list those that would be handy to you in the upcoming time.