Most Important Factors For Ranking On Search Engine - Google | Bing | Yahoo¶
---
Businesses that do not have an online presence are becoming obsolete. Having a business website is essential, and not only having one but also maintaining it optimized with algorithmic changes is essential. We've noticed that Google adjusts the ranking criteria of a website every year in order to eliminate the usage of black hat SEO strategies. The most essential ranking factor in 2014 was Https - every website aspired to get a tag of SSL certification and make the website secure. Following that, we noticed in 2015 that mobile usability was given more focus than other elements due to the increased demand for mobile-compatible websites. When RankBrain technology entered the picture, the ranking criteria abruptly moved to *content marketing or content generation.
Then, in 2017, Https websites were given greater importance and a higher rating than others.
According to John Mueller, "Awesomeness" will be the key to ranking in Google. He indicated that whatever factors exist for a higher ranking should lead to an optimised website that is customer-centric and user-friendly. One thing is certain: all of these ranking elements are designed to improve the user experience.
Table Of Content¶
Search Engine Ranking Factors - What Is It? ¶
SEO, or search engine optimization, as you may know, simply refers to increasing the likelihood that web pages will be ranked on a search engine. To be honest, though, all it actually means right now is Google.
Ranking in SEO relates to where your content appears on search engine results pages (SERPs). If your website (webpage) has ranking #1 - indicates that your website is the top result when someone searches for a specific term.
But how will Google do it? How does Google provide ranking to the website?
Let's check out.
Google's mission statement reads, "Organize the world's information and make it broadly usable." A significant component of that is providing pertinent search results. Here is how they function:
First, Google's search bots (sometimes known as "spiders") crawl the internet. Sounds spooky, we agree. But all it implies is that they access websites.

Second, they add such pages to Google's index and catalog them so that they are properly optimized and crawlable.

Third, out of the billions of pages in Google's database, when someone searches, Google displays what it deems to be the most pertinent results based on the search parameters they submit.
Google uses a number of intricate algorithms to determine what material is displayed and in what order. But all the exciting things will come later.
To entice people to click your link and visit your website after your page appears on the SERP, you must rely on your page titles and meta descriptions.
How Does Google Explain Their Ranking Factors? ¶
People search for information by typing or speaking terms that are connected to their search. These are referred to as keywords, and we'll examine them in this guide's section on content optimization. However, maintaining your website's position on Google requires more than merely maximizing the use of competitive keywords. It's also about the quality of information.
Google's own search quality ratings state that when it indexes the primary content of each page, it looks for things like:
Objective of the page
Quantity and reliability of the content
Information about the website and the content creator
Reputation of the website and the content creator
Interaction of users with the page (time on page, bounce rates, and so on)
Expertise, authority, and trustworthiness (E-A-T)
E-A-T - It is one of the crucial aspect.
For now, it's sufficient to know that each of the aforementioned elements influences SEO ranking and is taken into account by Google's algorithm.
Google displays to users the most pertinent, high-quality results that are connected to their search based on the aforementioned grading criteria.

The most pertinent information is displayed first, followed by the rest on subsequent pages.
Classification Of Ranking Factors ¶
Here are some of the topmost ranking factors you can consider for your website.
8 Domain Ranking Factor¶
Understand what is domain ranking factor and how it will help you to improve your website.
The age of your domain.
In your domain, use a keyword.
Your domain's keyword is the first word.
Length of domain registration
Subdomain keyword
History of the domain.
Whois owner was fined.
Instead of private WhoIs, use public WhoIs.
56 Page-Level Ranking Factors For Search Engine¶
Page-level factors are elements on each page that can be optimised, such as:
The presence of the keyword in the title tag
Putting your keyword at the beginning of your title tag
Keyword in your meta description tag
The presence of the keyword in the H1 tag
The keyword is frequently utilised in the article.
Content length
Word count rankings
The presence of a linked table of contents
Keyword density
The presence of semantically relevant keywords
Semantically linked keywords in the meta title and description
In-depth, high-quality information
Content that is helpful
Page loading speed using HTML Page loading speed evaluated on Chrome Core web vitals
There is no duplicate content on the same site.
Image optimization using ALT, title, and file name
The most recent content (the newer, the better)
Page age
How many changes were made to the material throughout the updating process?
Data on page updates in the past
The proper application of rel=canonical
Keyword presence in H2 and H3 tags
Keyword presence in the first 100 words
Spelling and grammar
The uniqueness of the page's material
Entity correspondence
Count of outbound links
Usability and optimization for mobile devices
Hidden mobile content (may not be indexed)
Mobile-optimized page
The presence of multimedia, such as photos and videos
Count of outbound links
The standard of outbound links
Outbound link theme
The presence of useful supplemental content, such as free tools and calculators
Content is hidden behind tabs (this content may not be indexed and will not appear in search snippets)
The number of internal links that point to the page
The caliber of the internal links
The presence of an excessive number of broken links (could lower ranking capabilities)
The page's reading level
The presence of numerous affiliate connections
The presence of several HTML mistakes
Domain authority/trustworthiness
The page's authority/trustworthiness
PageRank
The URL's length
URL proximity to the homepage
The presence of a term in the URL
Human editors' perspectives
Page category relevance to the page
Content layout for readability and usability
The page's priority in the sitemap.xml UX indication from pages ranking for the same term
Citing sources and references
Use of a user-friendly design
Google search engine results for the URL string
The page's internal link anchor text
Structured data usage
17 Site-specific Ranking Factors For Search Engine¶
Site-level factors look at things beyond the page level and throughout the entire site. They are as follows:
A contact us page or an adequate amount of contact information
The site's content adds value or delivers new insights.
TrustRank (how close your site is to a known and trusted site in terms of linking)
Website modifications to maintain freshness
The architecture of the website
The existence of a sitemap
Long-term site outage
HTTP server location / usage of a valid SSL certificate
Legal pages are included (terms and conditions and privacy policy)
Metadata that is unique
Breadcrumb markup is used.
Mobile optimization across the board
Overall site usability (usability and interactiveness)
Rate of Bounce
Domain mastery
User Feedback
The reputation of the website
39 Backlink Elements For Ranking In Search Engines¶
Backlink factors consider the sites that link to you when determining where to rank your page. Sites with greater quality links tend to rank higher when they have high-quality content. The following are the backlink factors:
Domain linking age
Count of referring domains
The number of linkages from different c-class IPs
Count of referring pages
Backlink anchor text
Image links' ALT tags
The number of links from the.edu and.gov domains
The trustworthiness of the connecting page
The linked domain's trust factor
The presence of rival connections
Number of links from expected industry sites Links from dangerous neighborhoods
Number of links that are not from advertisements
Referring to domains' Country TLDs
Domain mastery
Some nofollow links are present.
Link profile diversity
The content of the connecting page's context
The presence of more follow links that are paid or user-generated
Many backlinks to the URL with 301 redirects
When you hover your mouse over a link, text emerges.
Page link placement
Link placement in content Links from relevant domains
Links to related pages
The presence of your page's keyword in the connecting page's title
Natural rate of increase in the number of links
The rate of growth in the number of links is erratic and abnormal.
Links to top resources or hubs on a specific issue
Number of links from sites regarded as authority sites
In a Wikipedia article, it is cited as a source.
Words to use around your backlinks
The age of backlinks
Links from legitimate websites vs. bogus blogs
Profile of natural links
Excessive reciprocity
UGC vs. links in genuine content
Backlinks from a 301 redirect page TrustRank of the connecting site
Fewer outbound links on the linked page
Links in content versus links in forums
Linking content word count Quality of linking material Sitewide links Equals one link
Some of the most important ranking factors that will affect the website are: ¶
1. Voice Search - The Need of The Hour | Ranking Factor¶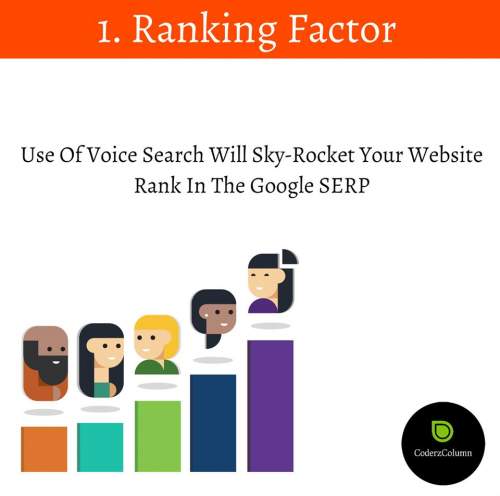 According to one research, 72% of individuals nowadays feel their daily routine revolves on voice-activated gadgets such as Siri, Alexa, or Cortana. As a result, incorporating voice search into your website has become unavoidable. In addition, Brian Dean, the SEO guru, recently released his work on optimising the website for voice search by examining 10,000 Google home results.
2. Fresh - Original And High-Quality Content | Ranking Factor¶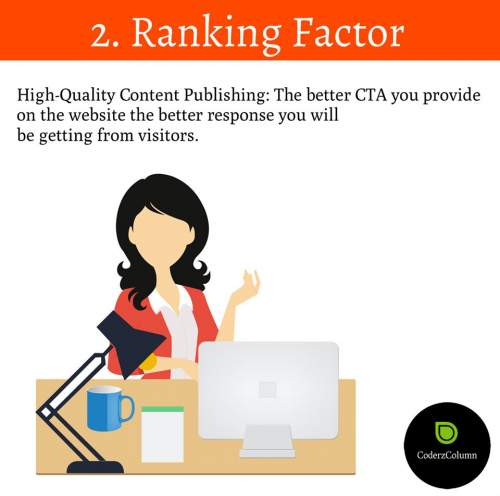 Content is the very first thing that will help you to attract your customers to your website and will also enable them to stay longer on your landing pages. The better CTA you provide on the website the better response you will be getting from visitors. If visitors find what they are looking for - relevant data then they are more likely to come back to your website without any second thought.
3. Incorporate Search Intent | Ranking Factor¶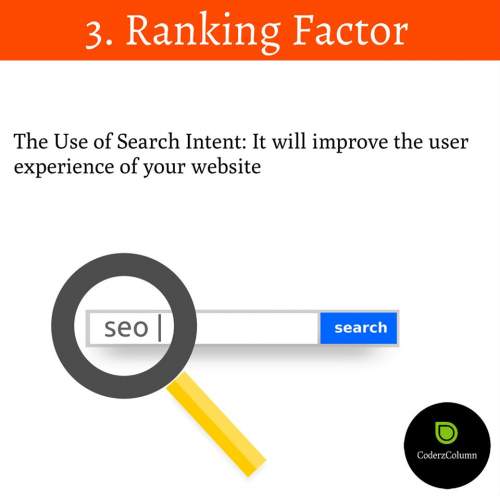 This point has been added to the list because it gives a greater user experience. People these days are super busy and if they do not find what they are looking for on the homepage then they won't look further on your website and will leave within seconds. But if you provide a search tab then you are giving an option to your website visitor to try it out and find what they want.
4. Update Your Keyword Research Technique | Ranking Factor¶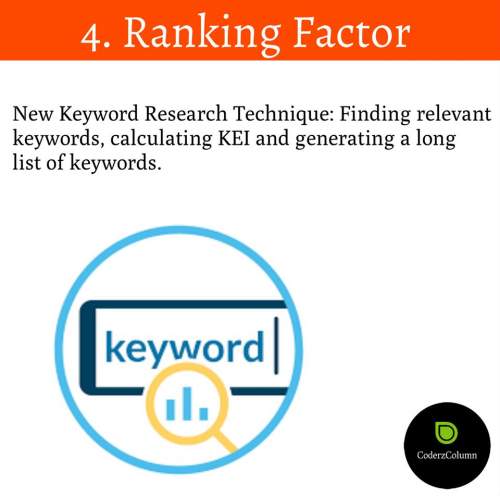 Yes, you might be surprised to find the same thing again on the list, but this is not what you usually do with the help of Google Adwords. Finding relevant keywords, calculating KEI and generating a long list of keywords. Naah! This is a very new technique - You can find a step by step guide to generating the best keyword for your website that will make you stand out of the crowd.
5. Rich Snippet - Featured Snippet | Ranking Factor¶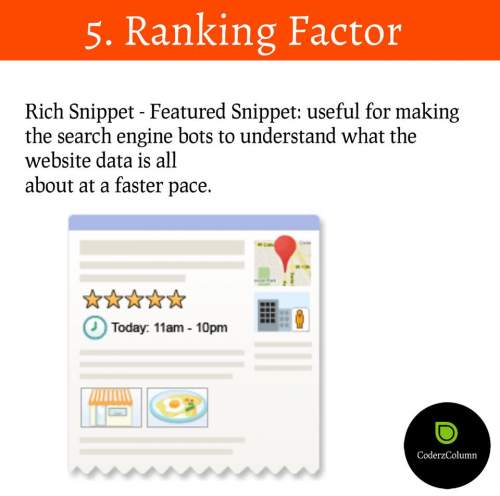 These are the techniques through which your website will attract more visitors. And also, it is quite useful for making the search engine bots to understand what the website data is all about at a faster pace. With the help of rich snippets and featured snippets search engines do not need to scan the whole page for a single line of data, instead, it directly gets data from the snippets or schema that is used for the website.
6. Boost Domain Authority With Relevant and Authoritative Backlinks | Ranking Factor¶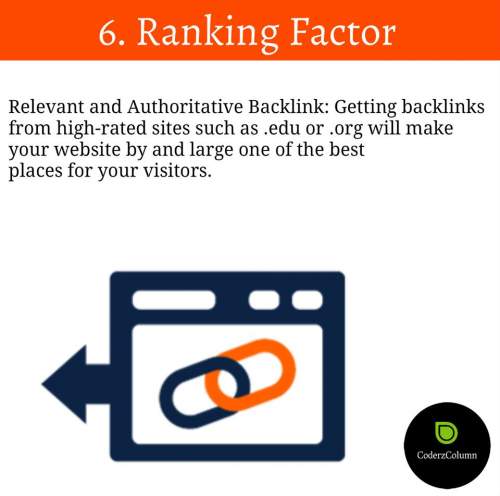 This will always be one of the most important points no matter what algorithm rolls out. Without authentic and relevant backlinks, the process of getting a better rank or domain authority is not possible. Getting backlinks from various high-rated sites such as .edu or .org will make your website by and large one of the best places for your visitors. Along with this, they won't be having any trust issues regarding the information they are getting.
Conclusion - Google' Ranking Factors¶
Digital marketing keeps all the ranking signals inflow to keep the website's position maintained on the Google SERP. Considering all the website points we can analyze that a website should be comprehensive, a bit sophisticated, user-friendly and must impart a great user experience for not losing the position or website rank for years to come. We have witnessed a lot of algorithmic changes keep rolling our every year such as the mobile-first index, page speed ranking factor, rich snippet and many more, it has become the need of the hour to keep updated with all the rollout and hence make the required amendments to the website by not losing track of Google's ranking.
Are you looking for SEO Services - Content Writing - Digital Marketing For Your Website? Contact CoderzColumn Today! Our professional team members will provide you the best services for your website.