As we can see above the original filter seems to smooth edge which separates black from white. Filters can perform many things like the above one. As a part of the convolutional neural network, the model learns this filter by training on data to learn intricate patterns.
Please make a note that np.convolve can only work on 1D array. For 2 or more dimensions, we need to use scipy.ndimage convolve function.
We'll now try to understand the architecture of convolution as we have a clear understanding of what is convolution operation.
What Is Called Convolutional Neural Network (Architectural Overview)¶
Any artificial neural network which uses convolution layers in its architecture is called a convolutional neural network. Convolutional Neural Network generally performs quite well for image classification/object detection hence we'll try to explain it's architecture from the image classification task point of view. Below we have shown sample CNN architecture for processing images.

Color images are maintained as a three-dimensional array (width x height x channels). Hence CNN neurons of convolution layers are also arranged in a way that applies a list of filters on these 3-dimensional images.
Generally, the architecture of CNN consists of a list of blocks of (Convolution, Pooling) layers followed by fully connected layers. Conv block can consist of a single Convolution layer followed by single pooling layers or even more than one convolution layer followed by a single pooling layer.
Sample Architectures:
$INPUT->CONV->POOL->CONV->POOL->...->FC->OUPUT$
$INPUT->CONV->CONV->POOL->CONV->CONV->POOL->...->FC->OUPUT$
Below are described common layers of CNN:
Inputs to CNN are generally images of 3 dimensions for RGB images and 2 dimensions for grayscale images.
CONV Layer: It applies convolution operation as described above followed by activation which is generally RELU (Rectified Linear Unit)). It takes as input the number of filters which we discussed above that will be initially initialized randomly or zeros but will get values during training. These filters are weights of convolution layers.

POOLING Layer: We then apply the pooling layer which reduces the size of activated output from the Conv layer resulting in downsampling. Pooling reduces size in both dimensions for images. Pooling layers do not have any weights to train as it just decreases the size of the input. Below sample image depicts how pooling works.

Fully Connected Layer: Output of last Pooling layer is flattened converting it to one dimensional and then given as input to fully connected layer. It's then followed by activation function which is generally sigmoid/softmax for classification tasks to predict object.
The below image displays how image is transformed when it passes through various layers of CNN.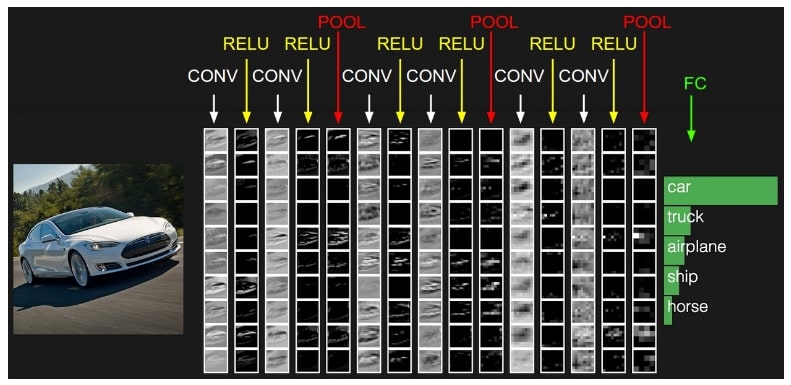 We can see from the above image that convolution layers followed by pooling layers create a simple representation of an original image to classify it. All deep learning libraries like Keras, Pytorch, Tensorflow, etc provides layers ready-made for convolution and pooling operations. Keras provides a very easy API to design CNNs.Keras, Pytorch, Tensorflow also provide a few famous CNN architecture along with their weights which can be used for transfer learning for other almost same tasks.
We'll now list-down a few common applications of CNN.
Applications of CNN¶
Object Detection/Image Classification
Recommendation System
Object detection in videos
CNN's can be used in natural language processing as well for classification
Time Series Predictions
Pros of CNN¶
fewer model parameters to train compared to multilayer perceptron.
Less time required for training due to fewer parameters. (With GPU)
High Accuracy for image classification problems.
Once trained same CNN can be used with slightly different tasks with different data using transfer learning
Cons of CNN¶
Requires a large amount of data to get high accuracy
Suffers from overfitting if the amount of data is less.
High Computational Cost(Without GPU)
CNN suffers from the problem of finding a solution with local optima. Hence they need initial parameter tunning to get global optima.
Famous CNN Architectures¶
Below we have listed some famous CNN architectures. Libraries like Keras, Pytorch, Tensorflow, etc provide these architectures as well as their trained weights which can be used for other image classification tasks.
References¶
The below articles were referred to while creating this article and images were taken from below materials for explanation purpose. Readers can further go through the below articles to enhance their knowledge to the next level.